A Wonderful Surprise
Thu, 25 Aug 2016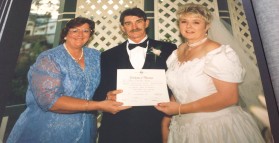 Today was very special for me as a celebrant when I received this beautiful email from a couple I had married twenty years ago. I would like to share it with you.
My name is Michelle Dittmann and my husband George and I had the pleasure of meeting you twenty years ago, when you officiated at our beautiful wedding at Bardon Reception Centre. We are leaving next week to go on a cruise to celebrate this milestone, and I just wanted to touch base and thank you for a beautiful ceremony that we got so many compliments on.
Over the years we have had heartache and have lost a number of family members that were at our wedding, but I have to say that George & I are more in love today than we were on the 7th September, 1996.
Thank you for being a lovely lady, and I am so pleased we were given a referral from our photographer with your details.
And thank you to Michelle and George for thinking of me, all these years later. I feel truly blessed!

Share / Bookmark