Can I Marry my Cousin?
Sun, 28 Apr 2013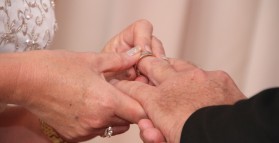 The short answer is 'yes' cousins can marry one another. Prohibited relationships according to the Marriage Act 1961 (Australia) mean that a man cannot marry his grandmother, mother, sister or half-sister, daughter or granddaughter. And likewise the woman cannot marry her grandfather, father, brother or half-brother, son or grandson.
But an uncle may marry his niece and an aunt may marry her nephew and cousins may marry each other.
Individuals who have lived together in the one family but were not legally adopted by the adults who raised them are not in a prohibited relationship and therefore are free to marry each other if they wish.
However, individuals who were legally adopted by the same adults but have never lived together are in a prohibited relationship and cannot marry under any circumstances ever. Once a person is legally adopted, it is as if a bloodline exits. This includes cases where an adoption has been annulled, cancelled or discharged.
Contact me about your wedding ceremony today!

Share / Bookmark
Tags: Marry Cousin, Marry Aunty, Marry Uncle