Changing your Name after you are Married
Fri, 13 Jul 2012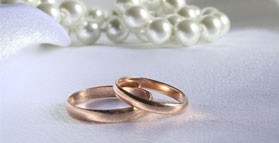 It is legal for a bride to change her name after marriage to that of her husband. This will mean that a great many documents will need to be completed and lodged with various government departments. This can only be done once the certified copy of the Marriage Certificate is obtained from the Registry of Births, Deaths and Marriages in the State in which the marriage was performed.
The following links may assist you in this process –
How to get a copy of your marriage certificate FAQ's (Justice Qld website)
Electoral enrolment
Driver's license (Queensland Government: PDF download)
Australian Tax Office (Australian Taxation Office: PDF download)

You may also need to update these items:
Australian Passport
Banking and Financial records
Insurance
Medicare
Memberships
Credit cards
Sporting bodies
Store cards
You should also make a new legal will as any previous will is void upon signing your marriage documents on your wedding day.

Share / Bookmark
Tags: Change Name, Married Name, Wedding Name