Cost of a wedding
Mon, 5 Oct 2015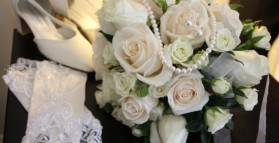 I often receive emails or inquiries from couples who wrongly believe that the cost of their ceremony depends upon the number of guests who attend.
The preparation and work involved in a ceremony is exactly the same, no matter how many people attend. There is required paperwork to be lodged, documents to be completed, interviews to be undertaken and the preparation of the marriage documents and marriage ceremony wording.
The amount of time to complete all of these is no different because only a small number of guests attend.
So when making an inquiry regarding the costs, remember that the cost is determined by the location, not the number of people who attend.
Generally the further the celebrant has to travel, the greater the cost.
Marriages in the Registry Office Brisbane currently cost $400 during the day on a Saturday and $530 for Saturday weddings after 4.30pm. The costs are slightly less for weddings during the week. But remember that your civil marriage celebrant can perform a ceremony at any time of the day or night, on any day of the week and at any location of your choice.

Share / Bookmark