Making a Flower Bouquet at your Wedding
Wed, 8 May 2013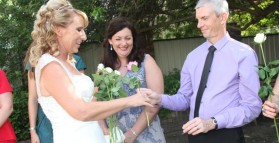 As a wedding celebrant in Logan for almost twenty years, I have performed thousands of marriages and it is always refreshing to add something new to a ceremony. I recently performed a ceremony where the bride asked her guests to help make her bouquet. The bride chose two dozen beautiful long stemmed pink roses. As she was getting out the car in preparation for her ceremony, I asked for guests who wanted to participate in making the bride's bouquet.
Each selected a rose and formed a semi-circle at the commencement of the aisle. The bridal party walked in and the bridesmaids walked down the aisle and took their positions. As the bride and her father walked around the sem-circle, the bride took a rose from each guest as she passed.
As the roses were handed over, the guests returned to their seats. Once the twenty-fourth rose had been given, all the guests were seated and the bride and her father made their way down the aisle. When the bride arrived at her groom, he then tied beautiful satin ribbon around her bunch of roses, and that became her wedding bouquet.
It was a simple gesture, but one which touched the guests who chose to be involved deeply. It was very beautiful to witness and set a magic tone for the day.
Allow me to assist in helping you plan your ideal Logan wedding ceremony. Do not hesitate to contact me with any inquiries.

Share / Bookmark
Tags: Flower Bouquet, Wedding Flowers