New charges for Births, Deaths & Marriages
Wed, 4 Jul 2018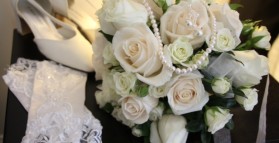 The Registry of Births, Deaths & Marriages have released their new schedule of fees, effective 2 July 2018 -
A standard certified copy of a birth, death or marriage certificate in Queensland will now cost $48.20
A wedding ceremony performed IN THE REGISTRY OFFICE BRISBANE by one of their OWN celebrants will cost -
Weekday ceremony $344 including GST
Saturday ceremony $444 including GST
Premium ceremony $588 including GST (Friday and Saturday evening)
Shortening of time of marriage $51.70
PLEASE NOTE - The above fees are for weddings conducted in the Registry Office Brisbane ONLY.
THESE ARE NOT MY PRICES. Marriage celebrants not employed by Births, Deaths and Marriages charge their own individual prices as they can travel to various locations and perform ceremonies outside of the office hours provided by BDM. As such, we ARE NOT BOUND BY ANY OF THE ABOVE CHARGES.
My fees are very competitive and allow you the flexibility to have your ceremony at the time, date and location of your choice. Please contact me for a quote.

Share / Bookmark