Rainy Weddings
Sun, 5 Jun 2016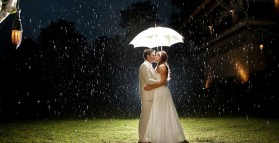 Are you planning to have your wedding in a beautiful garden, or on the beach? If so, it is always a good idea to think about your day and what you would do if it rained. I always ask my couples what their 'back up' plan is and more than half say that there isn't one because it just isn't going to rain.
That is really foolish. Any ceremony being conducted outside is going to be subject to any weather event. Rather than having the stress of trying to figure out what to do on the day, it is best to visit this months out from your wedding so you have a plan in place in case you need it.
Some couples say that they will stay with the ceremony location, no matter what, and everyone can use umbrellas. This is okay if there are a few showers, but for persistent heavy rain, another suitable venue needs to be found. Most couples contact their wedding reception venues and arrange to have their ceremony held there.

Share / Bookmark