Surprise Wedding
Fri, 3 Oct 2014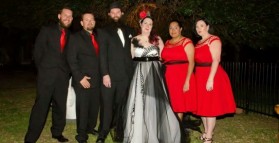 Have you been to a surprise wedding? This is what happened to the guests of Logan and Kylie who had received their invitation to a party to celebrate the engagement of their friends. However when they arrived, they found a beautiful bride and groom instead.
Many couples these days are choosing to surprise their guests with weddings. I have recently performed ceremonies where guests thought they were coming to a birthday party or some other event, only to find that when they got there, they were part of something really special.
The only down side to this sort of arrangement is when guests have competing arrangements and thinking it is simply a party and not a wedding, they make a choice expecting that they will be attending the wedding at a later time. These guests are always very disappointed to find they have missed the real thing.
The most important thing with any wedding is that you do it YOUR way, and if you would like to choose the less formal way with an element of surprise on your side, then this is for you. The oohs and aahs when guests finally realise what is happening is something quite magical to watch. And of course there is always the question, who knew beforehand and didn't tell!

Share / Bookmark
Tags: Surprise Wedding, Wedding And Birthday Celebration