Warming the Wedding Rings
Sat, 22 Jun 2013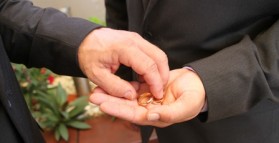 As a Brisbane Civil Marriage Celebrant, I can help advise you on ways to make your wedding ceremony unique. Their are a number of symbolic gestures that couples can add to their wedding ceremonies to make them personal and unique. One such gesture is the ring warming ceremony. At the commencement of the ceremony, as your authorised marriage celebrant I would announce that the rings to be exchanged by the bride and the groom will be passed amongst all guests who are asked to hold them in their hand to warm them with their love. During this time, guests are invited to offer a silent blessing or prayer for the couple; for their marriage; and for their future life together. The rings can be passed around separately or together. Once all have warmed both rings they are returned to the best man in preparation for the exchanging of the rings.
This gesture provides unity for all present to wish the bride and groom well by the love and warmth transferred into their wedding rings.
This symbol will be influenced by the number of guests and location of the wedding. For larger groups, ushers can be appointed to pass the ring from row to row or group to group to lessen disruption of the ceremony.
Are you busy planning your wedding? Contact me and allow me to assist you in creating the wedding you have always dreamed of.

Share / Bookmark
Tags: Wedding Ring, Warming
Related Articles