Civil Ceremony vs Registry Office
Sun, 13 Nov 2011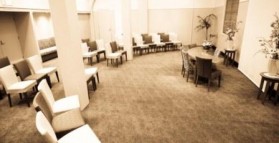 Many couples I speak to have considered being married in their local Registry Office. You may be surprised to know there is a fee attached to this. As of today's blog post, the cost is $275 on a weekday and $355 for a Saturday.
Choosing a registry office marriage does have some limitations and some benefits.
Registry Office is a minimal fuss style ceremony
No choice or wording for your ceremony
Surroundings are basic (as shown)
I will, as your Brisbane Civil Marriage Celebrant, go to any place of your choosing at any time
You can work with your celebrant to write your own ceremony to include family members and friends
The cost is comparible for a customised and warmer ceremony with your Brisbane Civil Marriage Celebrant
Can I help you with your Brisbane or Gold Coast Wedding? Contact me online.

Share / Bookmark
Tags: Civil Ceremony, Marriage Ceremony, Registry Office
Related Articles