Cultural Difference in Civil Ceremonies
Wed, 14 Aug 2013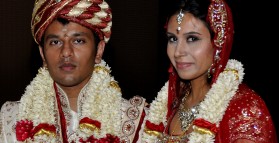 I recently married Dharsh and Afira in a simple civil ceremony at the Hilton Hotel in Brisbane.
Prior to the civil ceremony commencing, Dharsh and Afira had a traditional ceremony which went for sometime. Whilst I was not familiar with some of the customs of their culture, the ceremony itself was very beautiful and obviously held great meaning and significance for the participants. Their dress, their music and the symbols of their traditional marriage ceremony was enthralling to watch, however this ceremony alone would not have been recognised as a legal marriage in Australia.
Oftentimes couples want a mix of both traditional and modern and the combination of two such ceremonies enables them and their families to observe customs and traditions from their own culture, religion and beliefs yet make it a legal ceremony for the purposes of a marriage in Australia.
My sincere appreciation to this couple for allowing me to be part of and witness to this very special and meaningful celebration .
Contact me, your Brisbane Celebrant and see how I can help plan your civil ceremony today.

Share / Bookmark
Tags: Civil Ceremony, Cultural Differences
Related Articles