Getting Married on the Beach
Fri, 9 Dec 2011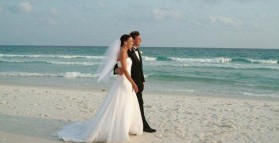 While the attraction of the surf and sound looks inviting for a wedding ceremony, beach weddings present a host of problems from Mother nature to unwanted visitors and spectators invading the beach on the day of your ceremony. Explore these points before finalising your wedding ceremony location.
Being a public place, more often than not the bikini clad (even topless) mingle with your guests.
There is no privacy and requests to cover up are generally met with negative responses.
There is no shelter if it rains or is extremely hot.
Walking on hot sand can burn bare feet.
Nothing is more unpleasant than a strong gale whipping sand up into your face.
Forget decorations or seating, they simply blow away.
It may be a wiser choice to consider a nearby location with alternative for bad weather, lots of shade and grass, and privacy for you to share your day with your guests alone. Later you can move onto the beach for those gorgeous photos if the weather is kind.
Can I help you on your special day? Click here to contact me online.

Share / Bookmark
Tags: Married Beach, Beach Wedding
Related Articles