Does your Celebrant have Insurance?
Sun, 29 Dec 2013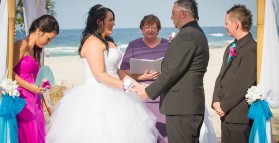 When choosing your marriage celebrant, remember to ask if they carry Celebrant Insurance for personal liability and professional indemnity.
Celebrant insurance is essential. A registered Celebrant must carry public liability insurance to enable them to perform any ceremony (wedding, naming or renewal of vows) in a public place, including all parks and on beaches under the control of a Council. If a Celebrant does not have this insurance, then they are legally not allowed to perform any ceremonies in any of those locations. The insurance is to cover the Celebrant and more importantly your guests in the event of any unforeseen circumstance arising during the ceremony. One example could be a guest tripping over a celebrant's brief case and injuring themselves.
A huge number of weddings occur in public parks and beaches every weekend in Queensland. The cost of these insurances is factored into the celebrant's fees. So you should check with your celebrant to ensure they are properly covered and lawfully allowed to perform your ceremony at your chosen location.
When comparing costs, also consider that a registry office ceremony currently costs $290 to be married Monday to Friday between the hours of 9.30am and 4.00pm and $370 to be married on a Saturday between the hours of 10.00am and 4.30pm. Getting married in a registry office limits the number of guests to 50 and the time of your ceremony.
As a civil marriage celebrant in Brisbane, I provide flexibility that allows you to get married at any time (day or night); on any day of the week (including Sundays); and at any location with no limit on the number of guests. So instead of being married in an office during office hours, you can choose a park, lake, beach, boat, church, home or other setting.
And yes, as a professional Brisbane marriage celebrant I carry both personal liability and professional indemnity insurance.

Share / Bookmark
Tags: Celebrant, Insurance, Professional, Indemnity, Registered, Brisbane Marriage Celebrant
Related Articles