How to Choose a Marriage Celebrant
Mon, 6 Aug 2012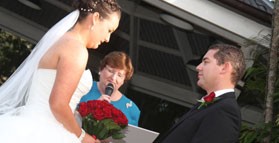 So you've just become engaged and you now need to book a celebrant? But who do you choose. There are so many and without a recommendation from someone recently married, the choices are endless and the selection process can be overwhelming.
Firstly think about whether you would like a male or a female; young or more mature person. If you type 'Marriage Celebrant Brisbane' into Google you will receive hundreds of hits. So what should you be looking for when choosing a celebrant?
Check out their webpages and see if they present a professional approach to their business. The savvy couple should be able to easily see who takes their business seriously and who does it for a hobby. Many of the websites have email links. Send the celebrant an email and see how long it takes to get a response.
Celebrants will firstly want to know the time, date and place of your wedding. It is pointless a celebrant providing a quote and other information if they are already booked and not available to do the wedding. Those three key pieces of information are the first questions you will be asked. Your celebrant should be able to provide you with an exact quote for your wedding and be able to detail what it includes.
I have heard of celebrants who refuse to provide any information whatsoever without first meeting with the couple. I have also heard of celebrants who refuse to meet with couples unless they agree to pay a deposit at the meeting and sign the required paperwork. If you contact a celebrant who operates like this, then find another one.
You should be able to ring and speak with your celebrant or email them and be provided with relevant information without obligation of making a firm booking. I suggest you contact at least three celebrants. Make arrangements to go and meet with them and sit down and discuss your wedding and how you would like your ceremony to proceed. There is a lot of flexibility with the ceremony and apart from two key areas that must be addressed, you are free to have whatever you want for the ceremony.
The Code of Practice for Marriage Celebrants states that celebrants must provide the parties with information and guidance to enable them to choose or compose a marriage ceremony that will meet their needs and expectations. I have heard that couples have met with a celebrant only to be handed a single ceremony and told this is what they are having. Again, move on if your celebrant does this. They are not abiding by the Code of Practice.
Couples are sometimes uncertain about whether to have a rehearsal. A rehearsal is not compulsory, but if requested by the couple, a celebrant must conduct a marriage ceremony rehearsal. Of course there may be an added cost if this occurs.
Make sure you check out photos of the celebrant performing wedding ceremonies and see that their personal presentation is of an appropriate standard for the wedding ceremony, and respects the expectations of all present. I have looked at the websites of many celebrants and shuddered when I saw the casual manner in which they are dressed when the bride and groom and their wedding party and guests are especially well presented.
There are times when the bridal party have specific requirements of the celebrant and this is no more so than with a beach wedding, where I have been requested to wear thongs or to dress casually. The celebrant should be flexible and able to match their attire according to the requirements of the bride and groom. Whether casual or formal, a celebrant should be dressed appropriately.
The celebrant should also be mindful of the colour theme for the bridal party and should not be in competition with either the bridal party or the guests. Gawdy or bright colours should not be worn unless expressly requested by the bridge and groom. I have seen photos of celebrants in outlandishly bright florals and checks. The celebrant should blend in and not be the centrepiece of the occasion. Do not be afraid to speak to the celebrant about your expectations. Many celebrants dress in colours that compliment the bridal party which adds great value to photographs of the actual ceremony.
But most of all, your celebrant should be warm and friendly, helpful and professional and be a calming influence on an otherwise stressful day. You should be able to gauge that from your first contact with them and they should make you feel at ease. No question is too trivial or stupid. Don't be afraid to ask questions and if you feel intimidated and uneasy with the celebrant, find someone who is more akin to you.
Your celebrant and your photographer are the two wedding providers who work closely with you on your wedding day. You need to know that they will treat you and your bridal party and family and friends with respect and kindness. Whilst everyone wants their wedding to run smoothly, it does not have to be a military masterpiece organised to the last second. Your celebrant needs to be flexible, to be available, and to be there for you to offer support and guidance along the way. You should have 100% confidence that they are going to be there for you on the day and deliver 110%. Again, if you don't feel that with your celebrant, move on and find someone who you do have that connection with. It will then make your wedding experience a very happy and satisfying one as you know that you have chosen a celebrant who will also be your friend. I have listed some helpful wedding services providers here on my website.
The wedding celebrant is often called upon following the ceremony to perform naming ceremonies for any children born of that relationship. It is a time of catching up and renewing that friendship, in some cases over many many years, and the celebrant becomes a person who marries other members of the family or their friends. So picking the right celebrant can be the forging of a friendship that develops and grows over many years and one that gives great satisfaction and enjoyment to the celebrant. You become like an extended part of a particular family. That's a wonderful joy for the celebrant.
I have not mentioned price. There are celebrants who charge $50 and others who charge $850, so you will find an enormous difference in pricing between all celebrants. Don't let your decision on a celebrant be based solely on price. It should be about the celebrant and how the two of you connect. If you feel comfortable with the person and their price seems reasonable to you, then make that choice.
Celebrants should not be about quantity of ceremonies performed or price of ceremonies charged. They should be about quality of service and satisfaction with that service.
The price charged by a celebrant isn't just for the twenty minutes or so of your ceremony. Their costs include the obligation free consultations that they have with you; the long phone calls of support and assistance they provide to you; the purchasing of the various marriage documents required; the lodging of all documents with Births, Deaths & Marriages; the time taken to travel to and from your ceremony; the half hour or more they are at the ceremony prior to the commencement time checking all is well and there are no last minute hitches; and the time and effort put in preparing and working with you to choose the wording for your ceremony. So when you consider price, just don't think of the wedding time itself. There is a lot of work and preparation that goes into each and every wedding ceremony and the price the celebrant is charging is covering those costs.
Many couple have no understanding of how a celebrant is appointed. All Commonwealth Marriage Celebrants are appointed by the Attorney-Generals Department in Canberra. Celebrants must undergo compulsory professional development each year to maintain their authorisation. If you ever have a complaint about a celebrant you should firstly contact the Marriage Celebrant Section of the Attorney-Generals Department in Canberra.
Most celebrants are aligned with various Celebrant Associations which also help their professional development by keeping abreast of current issues.
I hope this information has provided assistance to you to make it easier to choose your celebrant. I hope your wedding experience is a happy and stress free one and that you remember your wedding ceremony with happiness and pride that you chose the right celebrant for you!
If I can be of assistance with helping provide you with additional information, quotes/pricing for marriage celebrant services in Brisbane, Logan or Gold Coast, please contact me.

Share / Bookmark
Tags: Marriage Celebrant, Choose Marriage Celebrant
Related Articles