Planning your Wedding Ceremony
Sun, 1 Sep 2013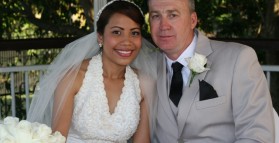 Many couples feel overwhelmed at the prospect of planning a wedding. But with a sensible approach it will all fall into place. The first step is obviously picking a date and a time for your marriage.
Why not ask your wedding celebrant for some advice? Celebrants attend weddings every weekend and can offer helpful advice on wedding venues in Brisbane and surrounding areas. Some couples like to have their ceremony and reception at the same wedding venue; others like a park or a beach on the Gold Coast.
Brisbane has a number of beautiful wedding venues that cater for the ceremony only; other wedding venues cater for both the ceremony and the reception as well. Rest assured that there is somewhere to suit your style and budget when you say those all important wedding vows.
Your celebrant is a wealth of knowledge and will assist you to find that perfect wedding venue for your marriage.

Share / Bookmark
Tags: Wedding Ceremony, Plan Wedding, Wedding Venues, Marriage Celebrant
Related Articles