Christmas Weddings
Fri, 27 Dec 2013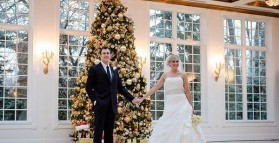 Weddings by their very nature can be stressful, particularly with all the organisation necessary. But add Christmas to the equation, and it will be a very busy time. Many couples live and work overseas and plan to come home for Christmas. What better time to have a wedding, when all loved ones will be present. Others like teachers, work in jobs where the Christmas period provides extended leave opportunities. For whatever reason, a Christmas wedding can be a very special time.
But there are a few things you need to remember when having a Christmas wedding. You not only need to have everything organised for your wedding, but also for Christmas. This can be an added expense for the bride and groom as well as their family members. Whilst paying for your wedding and all that it entails, there are still the Christmas gifts. Remember that many wedding venues may charge extra for weddings held on or around the festive season. As Christmas is generally not a busy time for weddings, many wedding providers could also be on leave or closed for the holidays. If you don't know where to begin planning your Christmas wedding ceremony, I suggest visiting my list of wedding plans and arrangements.
As with anything, preparation is the main key. Make inquiries to confirm that public transport is available; that the nearby parking station will be open; that your hairdresser and makeup artist are available.
And if your Christmas wedding is taking place in Queensland in an outdoor wedding venue, remember that it could be very hot and summer storms could be about. Make sure you have an alternative ceremony venue should a storm occur and choose a location with plenty of shade. Also consider that wearing a three piece suit in 30 degrees + can be very uncomfortable for the groom and his attendants.
Many venues will be festooned with lights and ornaments and having your wedding at Christmas provides the added bonus of all this special decoration, which can make wedding photos especially beautiful.

Share / Bookmark
Tags: Weddings, Christmas, Gifts, Expense, Weather, Travel, Christmas Wedding
Related Articles