Honeymoon Gift Registry
Mon, 11 Nov 2013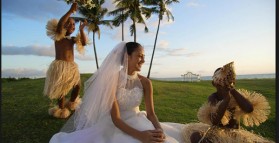 Celebrating a wedding, a renewal of vows ceremony or another special occasion? Then perhaps the girls from MTA Travel can help you.
Travel is their passion and they can help you with any of your travel needs. MTA Travel pride themselves in helping clients make their travel dreams come true. MTA Travel is a mobile travel service who are flexible with appointments and will meet clients at a time and place that is most convenient to them. This includes after hours consultations for those who run a busy schedule and don't have time to plan their annual holiday.
Whether extravagant or budget, they know the best kept secrets...Instead of doubling up on gifts, why not contribute to a Honeymoon Gift Registry for the Bride and Groom? The gift of travel is a fantastic way to give honeymooners the memories that they will treasure for the rest of their lives! They'll find you the perfect combination of destination, resort activities and more. It's so easy!
1. Firstly, the couple chooses their honeymoon with the help of their mobile travel agent
2. The registry is created
3. Invitation inserts are supplied to the couple giving guests the opportunity to contribute to the honeymoon
4. As contributions are made, these amounts get deducted from the cost of the Honeymoon
5. Any shortfall is made up by the couple and any extra will be refunded to the couple (which may be used as spending money)
Have you ever dreamed of getting married overseas? Fiji, Bali, Hawaii, Las Vegas to name a few...MTA Travel specialise in coordinating your special day and can make your dreams come true, ask them how today!
Jennifer Ridings - P: 1300 365 688 Ext 622 - E: jridings@mtatravel.com.au
Petrina Heinonen - P: 1300 365 688 Ext 623 - E: pheinonen@mtatravel.com.au
MTA—Mobile Travel Agents

Share / Bookmark
Tags: Honeymoon, Gift, Registry, Wedding, Mta, Travel
Related Articles