Wedding Expenses
Thu, 14 Nov 2013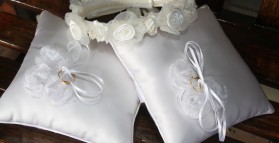 There is no doubt that weddings are expensive. There are so many details to think about and it's hard to know how to plan ahead financially. Your marriage celebrant can provide some assistance for planning your wedding around a budget.
A good place to start with your wedding expenses is to get firm quotes from all of your wedding suppliers - the ceremony venue; the reception; the DJ, photographer, marriage celebrant etc. Many wedding providers are happy for you to make instalments rather than be expected to pay the whole amount just prior to the wedding. This allows you to budget and pay some of the expenses as you go.
Couples are always looking for a way to minimise their outlay. One way is to consider a mid-week wedding, rather than a weekend. Many Brisbane wedding venues offer a discount if you get married outside of the weekend. More and more couples are opting for savings with their transport, particularly as the vehicle is usually only seen for a few minutes when the bride arrives. One area not to sacrifice if you can is good wedding photography. This does not have to costs tens of thousands of dollars. There are a number of excellent photographers who offer wonderful wedding photos at a very reasonable price.
More and more of my brides are sourcing their wedding attire from the internet. Most gowns need some alteration but there are massive savings to be had. Also keep an eye out for end of season bargains at bridal outlets. For the men, it is often cheaper to purchase a suit at a sale than to hire one at a similar cost. The benefit is that you will have the bought suit to wear at other times whereas your outlay to hire a suit covers only a few hours in time.
Flowers, cake, make-up, music - with a bit of planning there are always ways to make savings. As your marriage celebrant I have a wealth of knowledge and a list of contacts who can make your wedding a memorable event that won't break the bank.

Share / Bookmark
Tags: Wedding, Expenses, Cheap, Cost, Wedding Planning
Related Articles