Organising an Australian Wedding from Overseas
Mon, 3 Feb 2014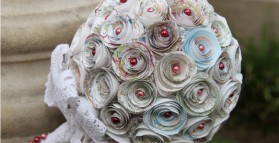 I recently had the pleasure of performing a wedding ceremony for a wonderful couple from Portsmouth in England. When they first contacted me they were unsure of the process or how difficult or easy it may be.
They downloaded a copy of the Notice of Intended Marriage and had their signatures witnessed by a person nominated on the back of the form. They then posted the Notice to me, together with certified copies of their birth certificates and passports. Their original documents were produced to me when we met in Australia, a couple of days before their wedding.
I am happy to report that the day went off without a hitch, albeit a very windy afternoon by the beautiful sea at Cleveland.
I was fascinated by the bride's bouquet which had been made from small pieces of road maps from the area where they live. The pieces were coiled together in cone shapes and joined together to make this very unique feature. What a wonderful way to incorporate a piece of their homeland with their Australian wedding.

Share / Bookmark
Tags: Australian, Wedding, Overseas, Intended, Marriage, Homeland
Related Articles