Renewal of your Wedding Vows
Thu, 4 Apr 2013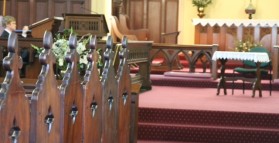 As one of Brisbane's most experienced marriage celebrants, I often receive inquiries asking what's involved in a renewal of vows ceremony and when should a couple consider doing this. The answer is simple. You do this when you feel that you want to make a public announcement of reaffirmation of your love and commitment to one another.
All relationships face their difficulties and for some, this leads to separation for a time. For others there is a feeling that things between the two just don't seem to be the same. With time and nurturing, couples often find their way back to each other and they want to celebrate their reunion in a special way. This is where the renewal of vows ceremony shines.
The ceremony is very simple and makes reference to the earlier marriage with details of the time, date and place. Oftentimes couples will mention the difficulties of their relationship and that they have now come to a place where they know that they want to be together more than anything and they want to show that their marriage has taken on new meaning for them both.
The couple will then repeat wedding vows, sometimes the exact vows they had taken previously. The words are rearranged slightly an example being, "John on your wedding day, you took Anne to be your wife, to have and to hold, from that day forward, for better for worse, for richer for poorer, in sickness and in health, to love and to cherish. Do you re-affirm that vow here today? I do"
Rings are generally exchanged. Sometimes an exciting time for the wife to receive a new ring. The exchange of words with the ring can be as simple as "with this ring I re-affirm that we are wed."
The ceremony is generally concluded with a paragraph similar to this, "John and Anne have declared before us all that they will continue to live together in marriage as husband and wife. They have re-affirmed their vows to each other here today and each has given and received a ring. I therefore call upon all present here to be fellow witnesses with me to this re-affirmation. I declare that they have been, and will continue to be, husband and wife."
Whilst some couples see this as a way of mending fractured relationships, sometimes it is merely a celebration of love that has lasted and stood the test of time, especially with a significant wedding anniversary. A renewal of vows ceremony has been a popular way to celebrate a 25th Wedding Anniversary. Generally by this time couples are more financially independent and their children have grown and left home. They find themselves in a unique position in that they are once again alone. They realise that their marriage has weathered the storms and difficulties and that their love and support for each other has seen them reach a milestone in their relationship. What better way then to share it with those who are closest to us? A renewal of vows ceremony can be a very joyous occasion for all the family and their children are excited to be a part of this expression of love and devotion.
I always suggest that a photo from the original wedding day, including if possible the entire bridal party, be on display. Many of your friends now may not have been at your wedding. Some couples even have their original bridal party celebrating with them, which is truly remarkable and special.
If you are thinking of having a renewal of vows ceremony and you live in the Brisbane, Logan, Redlands, Ipswich areas or on the Gold Coast, I would love to work with you to make this celebration as special as the original.
I also have a special Register for Renewal of Vows ceremonies which you and two witnesses will sign. You will also receive a certificate of Renewal of Vows Ceremony. There is no formal lodgement of documents with Births, Deaths and Marriages, but you will have your certificate to commemorate the special occasion.
Contact me today for your Renewal of Vows Ceremony

Share / Bookmark
Tags: Renewal Of Vows, Renew Vows, Reaffirm Vows,
Related Articles