Sunrise Weddings on the Gold Coast
Sat, 31 May 2014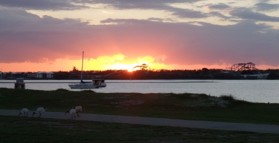 There is no more beautiful way to start your marriage, than with a wedding at daybreak. This is exactly what a gorgeous Zimbabwe couple did yesterday morning at the Gold Coast. Loved ones gathered as the sun broke over the horizon. The bride arrived with family shortly after to join the groom on a small stretch of beach at Southport. Although a casual affair, the sense of joy and excitement amongst the gathering was very evident. After exchanging their vows and a few family photos, everyone moved to share breakfast together, the first meal for the couple as husband and wife.
The main focus for this couple was their marriage, not the pomp and ceremony that went with it. In the quiet of the morning, and the simplicity of close family and friends, the couple pledged their love forever. It was a special time for all involved.
So if you want to have a "no fuss" wedding and something a little different, consider a dawn wedding. It may be an early start for everyone but the memories will be priceless. Contact me if you would like to find out more.

Share / Bookmark
Tags: Sunrise, Dawn, Wedding, Daybreak
Related Articles