The Wedding Dance
Thu, 9 Jan 2014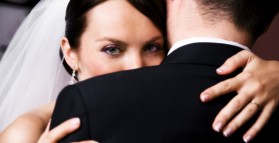 As your local Brisbane marriage celebrant, I understand that many couples struggle when it comes to the wedding dance and rather than swaying from side to side to the music, instead want to look good, feel great and have fun! So they seek the supportive but fun lessons from the Let's Dance Co "LDC".
Since 2006 LDC has taught thousands of beginners including many many wedding couples. The school has a fully air conditioned, private studio dedicated to teaching wedding dance and is equipped with many teaching aids and is surrounded by the beautiful Kimberley Forest at Shailer Park.
Contemporary music can blend with Latin and Ballroom inspired dance styles to create a truly memorable and personalised experience. LDC can custom your dance to being romantic, cheeky, upbeat, jazzy, sensual and more - whatever theme suits your special day. You can provide your own music or choose from their huge selection. No contracts; no group classes; no one else watching; just one-on-one lessons with your own personal, supportive and highly experienced dance instructor.
For more information contact the Director Mark on 0412 590 537 or via email at info@letsdancestudios.com or visit http://www.letsdancestudios.com

Share / Bookmark
Tags: Wedding, Dance, Tutoring, Classes, Lets Dance, Ldc, Lessons, Instructor
Related Articles